Join us for seasonal and special events throughout the year.
---
Haunted History Halloween Program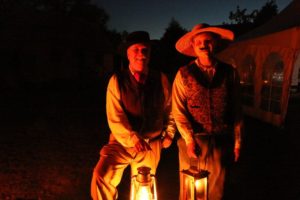 October 17 and 18, 2019
Tours start at 7 pm, 8 pm, and 9 pm
Lexington County Museum
231 Fox Street Lexington, SC 29072
Adults are $6, children 12 and under are $3, and members are free
The Lexington County Museum will host the thirteenth Annual Haunted History Halloween program at 231 Fox Street in Lexington this year.
As ghoulish guides lead guests on a spooky but not too scary journey of the museum property, visitors will hear ghostly stories, including strange and unusual events in Lexington County's history.
Guests will hear amazing stories, learn about paranormal activity in the 19th century, and meet memorable specters and ghosts along the way. Visitors will also learn about some of the superstitions held by Lexington County residents. Watch out for frights and surprises around every corner!
This event frequently fills up so reservations are required. To make a reservation, call the Lexington County Museum at 803-359-8369 or email the museum at JRFennell@lex-co.com. Payment will be taken at the event. This event is a great way to learn about Lexington history and is educational, family-friendly and, most importantly, fun!
Murders and Mysteries Lexington Walking Tour

November 9, 2019
8 pm
Icehouse Amphitheater
107 West Main Street, Lexington, South Carolina 29072
Free
Learn all about the murders, mysteries, duels, and lynchings that occurred along Lexington's Main Street as we take a leisurely walk through downtown Lexington. The tour begins at 8 pm at the Icehouse Amphitheater. This is a free event. Reservations are not needed. Because of the mature subject matter, we ask that attendees be 18 or over or have parental permission. For more information, contact the museum at 803-359-8369 or email us at museum@lex-co.com.
Thanksgiving Holiday Closing
Nov. 28 – Dec. 1st, 2019
The Lexington County Museum will be closed for Thanksgiving.