Join us for seasonal and special events throughout the year.
---
Memorial Day Holiday Closing
May 24 – 26, 2019
The Lexington County Museum will be closed for Memorial Day weekend.
Murders and Mysteries Tour
June 8, 2019
8 pm
Icehouse Amphitheater
107 West Main St., Lexington, South Carolina 29072
Free
This tour is a great way to learn about the history of the town and hear some very interesting stories along the way. Attendees will learn about some of the murders, trials, and other crimes that occurred on Lexington's Main Street in the 19th and early 20th centuries. This free tour will begin at the town's Icehouse Amphitheater and will last about an hour. Attendees will follow a guide between Church Street and South Lake Drive. Because of the mature subject matter, attendees must be 18 or over or have parental permission. This event is offered at no cost and no reservations are needed. For more information or questions, please call the museum at 803-359-8369 or email us at museum@lex-co.com.
Family Day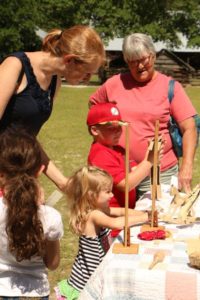 June 22, 2019
10 am to 1 pm
Lexington County Museum Complex
231 Fox Street Lexington, SC
Free to the Public
Come join the museum at our annual Family Day event. This event, which will be free for the public, will feature children's activities such as playing with historic games and toys and learning about life during the 19th century in Lexington County. These activities, which are based on the programs we do for school groups, are hands-on so kids can learn and play at the same time. Children will get to learn about everyday activities such as clothes washing. In addition, several of the museum's 30 structures will be open for tours. Visitors will also be treated to free hot dogs and drinks. This event will allow attendees to learn about Lexington history while having fun.For more information, call the museum at 803-359-8369 or email us at museum@lex-co.com.