Join us for seasonal and special events throughout the year.
---
World War I History Presentation and Author Talk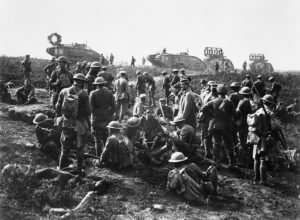 October 11, 2018
6:30 pm
Hazelius House/Museum Tour Office
231 Fox Street Street Lexington, SC
Free to the public
Join the Lexington County Museum as we host local author Jerred Metz on the evening of October 11th. Metz is a retired professor of writing and literature, having taught in South Carolina since he moved here in 1999 at Coker College, Webster University, and Strayer University. He is the author of eleven books. The two most recent novels are "The Angel of Mons: A World War I Legend", and its sequel, "Bellicourt Tunnel: The Crowning Battle of the Great War."
Metz will talk about the Battle of Bellicourt Tunnel, its significance in the War and its particular significance to the Thirtieth Division of the American Expeditionary Force, many of the soldiers who came from South Carolina. The Division was made up of the National Guard unit that went to Texas in 1915 -16 to support the war on Poncho Villa.
When federalized when the United Stated declared war on Germany and its allies, The Thirtieth Division trained at Camp Sevier near Greenville and was one of the first two Divisions to ship to Europe. Metz will talk about events that led up to the battle, which went into full attack on September 29, 1918, a little more than a month before the Armistice. He will describe this part of the Hindenburg line, the officers and soldiers involved, the fight, and its role in bringing about Germany's willingness to end the war.
"Murders and Mysteries" Walking Tour of Lexington
October 13, 2018
8 pm
Tour begins at the Icehouse Ampthitheater
107 West Main Street Lexington, SC
Free to the public
Attendees will learn about some of the spookier and more gruesome aspects of Lexington's rich history as we will discuss murders, crimes, and mysteries that occurred on/near Lexington's Main Street. This free tour will begin at the Icehouse Amphitheater and end on Main Street. Because of the mature subject matter, we ask that attendees be over 18 or have parental permission. No reservations or tickets are needed.
Haunted History Halloween Program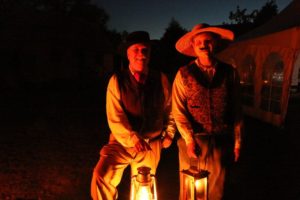 October 18 and 19, 2018
Tours begin at 7, 8, and 9 pm
Lexington County Museum Complex
231 Fox Street Lexington, SC
Tickets are $6 for adults and $3 for children
The Lexington County Museum will host the twelfth Annual Haunted History Halloween program at 231 Fox Street in Lexington this year.
As ghoulish guides lead guests on a spooky but not too scary journey of the museum property, visitors will hear ghostly stories, including strange and unusual events in Lexington County's history.
Guests will hear amazing stories, learn about some paranormal events in the 19th century, and meet memorable specters and ghosts along the way. Visitors will also learn about some of the superstitions held by Lexington County residents. Sheriff John Fox may make an appearance as well. Watch out for frights and surprises around every corner!
Members get in free with a membership card. This event frequently fills up so reservations are required. To make a reservation, call the Lexington County Museum at 803-359-8369 or email the museum at JRFennell@lex-co.com. This event is a great way to learn about Lexington history and is educational, family-friendly and, most importantly, fun!
"Old Time Regligion" Marker Rededication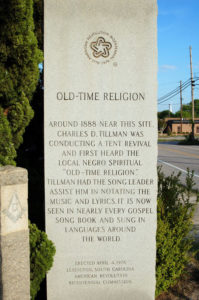 October 21, 2018
5 pm
Lexington County Museum Complex
231 Fox Street Lexington, SC 29072
Free to the public
Come out to celebrate the re-dedication of the "Old Time Religion" marker that was moved to the museum. Light refreshments will be served.
Veteran's Day
November 10 – 12, 2018
The Lexington County Museum will be closed for the Veteran's Day holiday.