Join us for seasonal and special events throughout the year.
---
Christmas Open House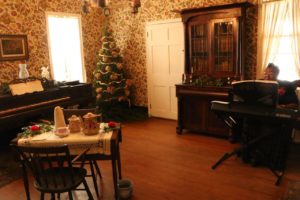 December 10, 2017
1 pm to 4 pm
Lexington County Museum Complex 231 Fox Street Lexington, SC
Free
Come experience Christmas traditions of the past at the museum as we host our annual Christmas Open House. Many of the thirty historic structures on the museum complex will be open and will feature period Christmas decorations. Light refreshments that would have been eaten by Lexington residents in the 19th century, including hot apple cider and gingerbread, will be served. A blacksmith will be on site practicing his craft and educating visitors about smithing, and a cooking demonstration will be taking place in our ca. 1830 Joel Ridgell kitchen as well. For more information, please call us at 803-359-8369.
"Murders and Mysteries" Walking Tour

February 10, 2018
8 pm
116 East Main Street Lexington, SC
Free to the Public
Attendees will learn about some of the spookier and more gruesome aspects of Lexington's history as we will discuss murders, lynchings, and mysteries that occurred in downtown Lexington. Because of the mature subject matter, we ask that attendees be over 18 or have parental permission. For more information call the museum at 803-359-8369.